What is a Dialogue List
for film
A dialogue list for film is a post production script that contains all the dialogue spoken by the characters in a movie or video that is broken down by speaker. Each dialogue starts with an in timecode for each new speaker and also has the end time code for when the dialogue ends. It can be customized as per the network or distributor's requirements.
Dialogue Lists may include the following
Dialogue List Sample Templates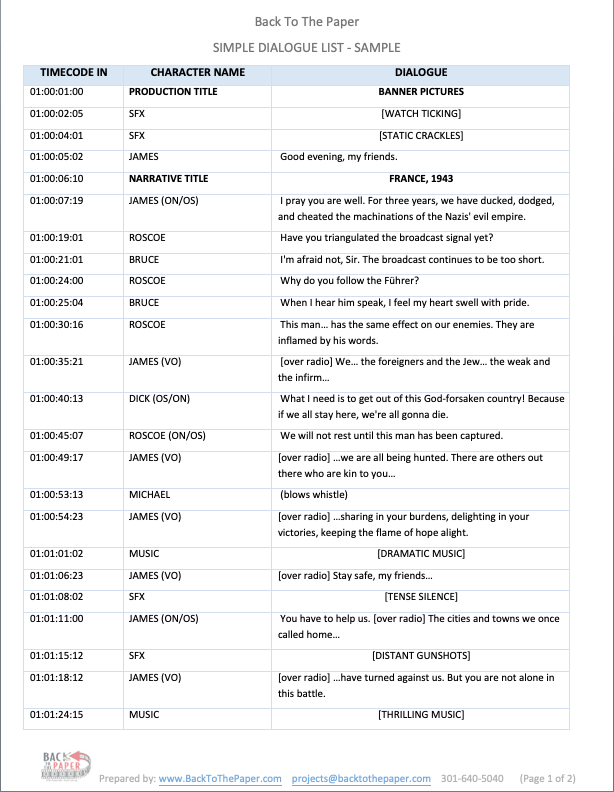 Simple Dialogue List for film
Comprehensive Dialogue List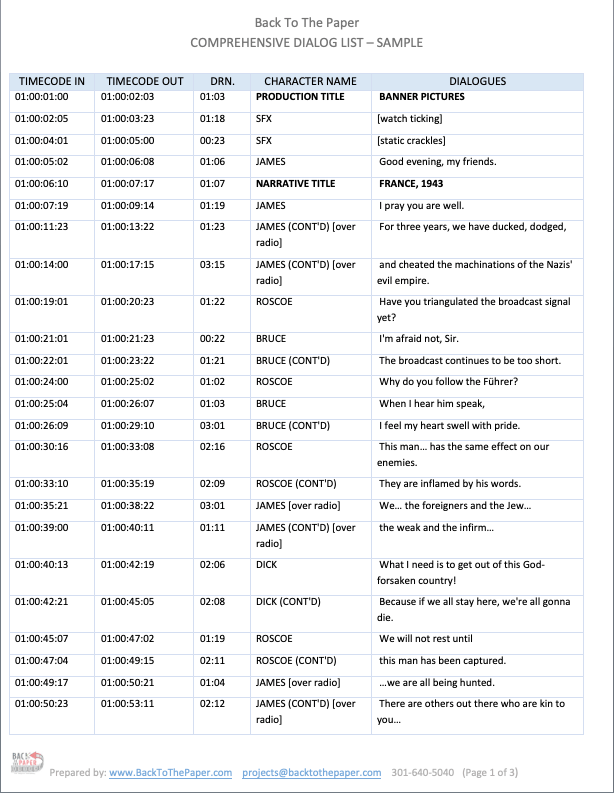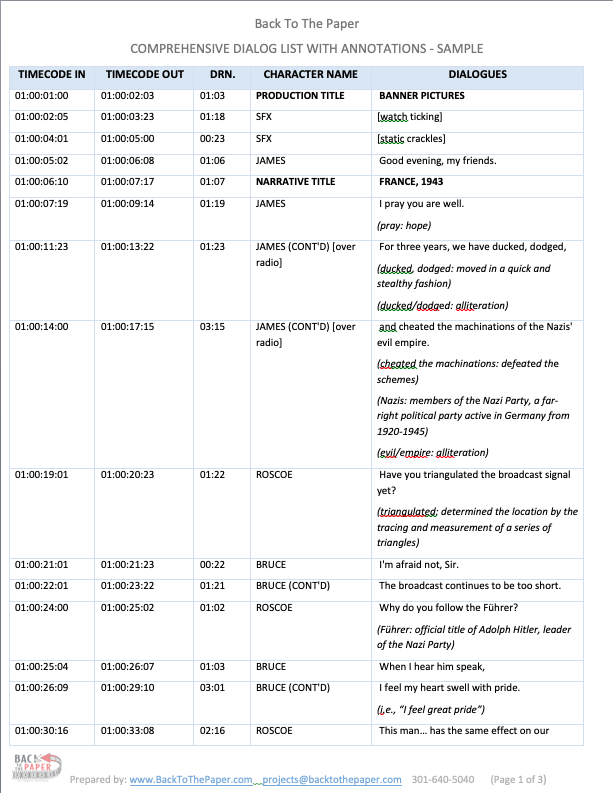 Dialogue List With Annotations
Dialogue List for
Discovery Channel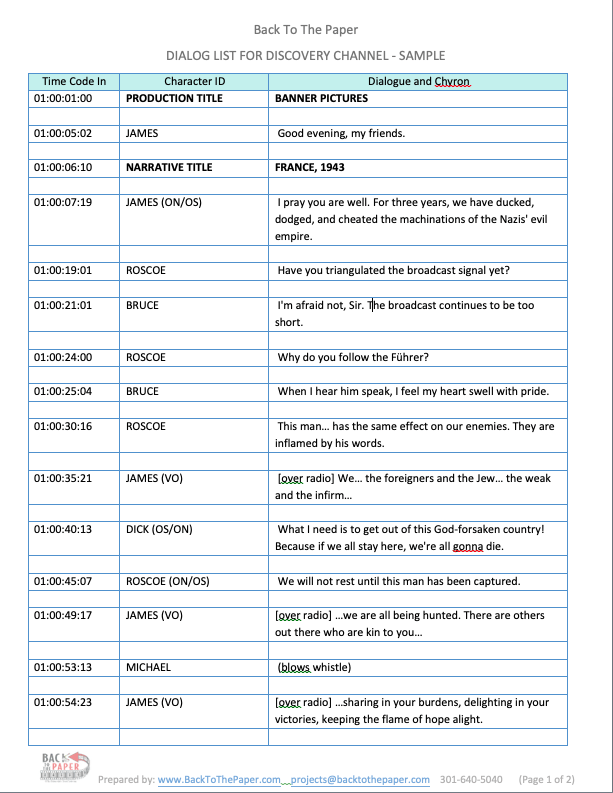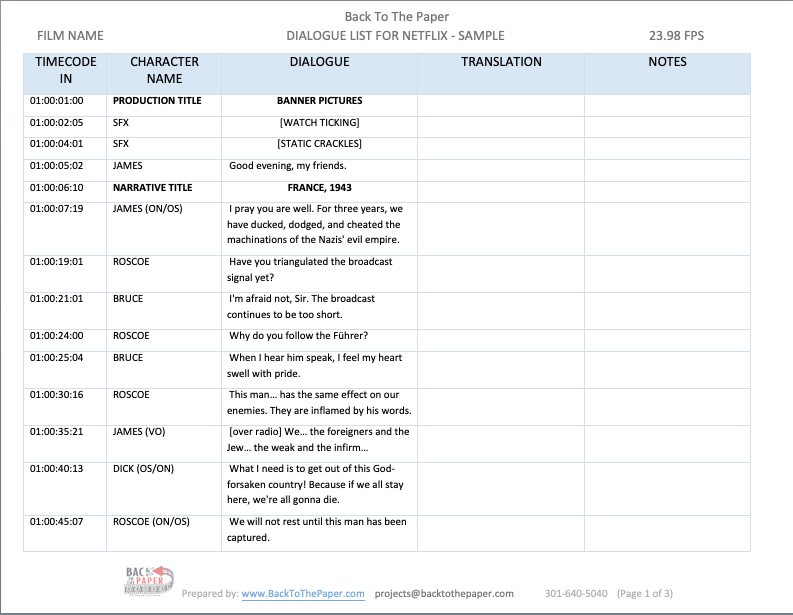 Dialogue List For Netflix
The default choice for expressing the point in a video where your caption appears or your scene changes, expressed in Hour:Minute:Second:Frame. For example, a minute and a half would be expressed as 00:01:30:00, as one minute and 30 seconds have passed. Footage/Frames: Another measurement of time in a video, this method is the calculation the point where a caption appears or scene changes based on the physical length of film that has been used, expressed as Feet.Frames. So, for example, one second of film would be expressed as 1.8, because there are 16 frames in one foot, and 24 frames in a second of film. You can choose to use footage/frames in addition to or instead of time code in your scripting project.
Verbatim, Cleaned Up, Truncated Dialog
Verbatim Dialog is transcribed exactly the way it's spoken — with stutters, false starts, mumbles, groans etc. It contains all the sound that a person utters. This is especially helpful for dubbing. In the dubbing process, sounds like these are denote confusion or hesitation or a myriad of emotions. It also gives a better sense of duration for a dialog. Cleaned Up Dialog excludes elements like stutters, false starts and such sounds uttered. The idea is to get the content of the rhythm of the speech is uninterrupted by repetitions, blocks or spasms, or prolongations of sounds or syllables. Truncated Dialog goes a step ahead and shortens the dialog even more by editing the words in such a manner that the meaning of the dialog remains the same with reduced number of words. This is needed most if and when the closed captioning needs to adhere to a specific words per minute limitation. For example: if the closed captioning is meant to stay under 120 wpm for children's program, then it may be necessary to edit the words to that it becomes more readable for slow readers. But most importantly — without changing the meaning or the dialog or compromising the true essence of the meaning. Here are examples indicating the differences between all three:
The process for creating a Dialog List is very similar to creating a CCSL. The main difference between the two is that a Dialog List does not have a Continuity List (the left-most columns with shot descriptions).
We offer our Dialog Spotting List at the same cost as a Dialog List. For both, we follow the process of first creating a closed captioning file and then exporting a text document from the caption file.
We can also offer you a closed captioning file almost free of cost with all of our Dialog List jobs. Although some additional work is required in the closed captioning file, most is already done.
What materials do I need to provide?
If you choose to move ahead, this is what we'll need from you:
A low resolution downloadable proxy video with window burn (BITC). Anything around 2GB is fine (but the smaller the better as long as the audio is clear and visuals are sharp).
If you send us a Vimeo or a Dropbox link, please make them downloadable.
If you send us a Google drive link, please send it to ttvideodrive@gmail.com .
Any shooting script or text of the movie that you might have. It helps us with names etc.
End credits in MS Word
This is what you will get from us:
Our standard non-disclosure agreement/contract.
Invoice that will need to be paid before we deliver the file to you.
Post production script  in MS Word
Difference between Comprehensive and Simple Dialogue List
COMMON TO CCSL SERVICES.
Add Closed Captioning for only $2 pm

Multiple time codes (what happens when your film is accepted by another network?)Edit existing DIALOGUE List

Timing for subtitling or for dubbingWhat is forced narrativeFree trailers

What is forced narrative

Free trailers

Dialogue Annotations
A low resolution downloadable proxy video with window burn (BITC).

Anything around 2GB is fine (but the smaller the better as long as the audio is clear and visuals are sharp).
If you send us a Vimeo or a Dropbox link, please make them downloadable.
If you send us a Google drive link, please send it to ttvideodrive@gmail.com

Any shooting script or text of the movie that you might have. It helps us with names etc.
End credits in MS Word or .txt